A bay window unit projects out from the wall of the house and is constructed from three window units with the middle unit is parallel with the wall. Ventilating units of double-hung or casement windows are typically selected for the opposing side units, and picture window is typically selected for the center unit.
Get a Price
On windows, doors, and siding
Once you submit, we may reach out to you via phone, email, or text to get you a quote on your project, which you can opt out of at any time. Consent is not a condition of purchase. Message/data rates apply.
Terms and Conditions
|
Privacy Policy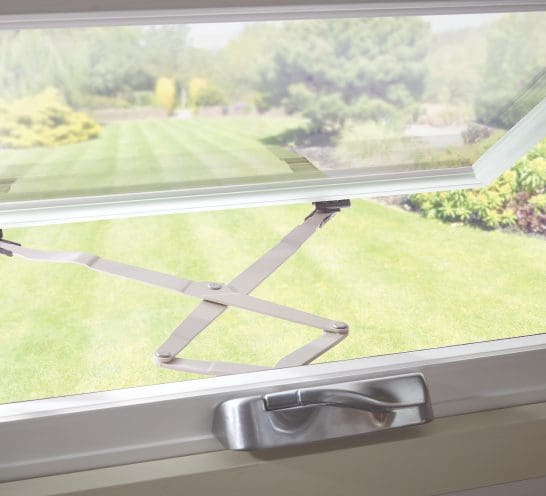 What is a good location for a bay window?
A good location for a bay window may simply be an existing bay window that needs to be replaced. Also, any picture window is a great location for a new bay window. The new projecting unit is custom-made and doesn't require costly time-consuming structural changes. Bay windows add new dimension to the room and the exterior of the home. They can be tied into an overhang or installed with an optional roof assembly.
Multi-chambered 3 1/4 inch vinyl frames
Heavy duty solid wood buck frame with steel mullion rods securely supports entire bow or bay unit
Head and seat are 3/4 inch exterior grade plywood with birch veneer stainable finish
All trim and window stops are made with #1 clear white pine
Casements and picture windows are available with interior wood grain finish for a completely finished wood grain appearance
Frame accepts any combination of our standard picture and operation units
Structure supports spacious projection for visual depth and utility
Exterior vinyl cladding is completely maintenance free
Can be built into exterior soffit area for protection and a finished look
Optional shingle roof package
Meets Energy Star requirements when purchased with LowE/Argon
The top-rated window and siding replacement company in Tulsa
4.8 rating on google

They gave me a great deal on window replacements for the entire house. The windows were manufactured and shipped quickly. Hector and Jaime replaced all the window frames in the house in 4 hours or so, and they were great! Professional, friendly, and competent!

Tanner


They were on time and did a fantastic job. Windows look very good. I would recommend this company if you need new windows

Dennis Bond


Keith was very informative and help through the ordering process. Adam came out to do my install. He and his crew were very professional and courteous, paying close attention to detail. Very smooth process. Would definitely use again in the future.

Derek


Excellent service, great crew , love the windows. They were fast and knowledgeable.

Sheryal Williams


Best Windows has been amazing! Hector did an amazing job installing our new windows! I highly recommend Best Windows, they are a top notch company! Linda A Kuhn

stefan kuhn


Adam was our installer who came did the job, told us of the challenges he faced and the solutions he proposed, and got it done. He was friendly and professional. We highly recommend Adam and Best Windows!

Vickie Williams


I have to start out by saying I went on the search for new windows I had several estimates done and I have to say that when the best window company came in to give me an estimate they were very open and very honest with their products with their pricing nothing is hidden that was the number one plus for me the second was the people that installed! Adam and his crew was absolutely incredible amazing above and beyond I can't think best window company enough for the work that they've done the cleanup afterwards the kindness while they were here and just very professional in all directions. I also need to bring up Keith and Nikki they are the ones that got us started Keith came out to give the estimate Nikki's the one who answered the phone and set up the appointment and I can't say enough about these two people either I've never been treated with such kindness and respect from a company that I've ever dealt with so I want to say Kudos I applaud you all and thank you for the amazing Windows the job and everything that you all have done for us I would highly and I say this again I would highly highly recommend this company and if I ever need anything in the future this is who I will be giving my business to. Sincerely Lisa & Don Kuhn

Lisa Kuhn


Excellent staff, very friendly!

Mary Ashley Rowland


We really appreciate Best Window Co for providing us with the lowest pressure, easiest estimate process. They were able to deliver the windows ahead of their original schedule date and their installer, Hector was a true professional and answered all of my questions during the install and sought my feedback several times to ensure he was doing what we wanted. Very pleased with everything so far.

Steven Bender


The work was done in a professional fashion and the clean up was done to my satisfaction. The window look just like I ordered. Thanks for the great service, this is why we keep coming back to Best Window. Great service and good people. Thanks, Doug Beard

Doug Beard

Browse Doors, Roofing, Siding, & Window Replacement Options